To create and promote a society of goat producers, where all may learn through education and communication, in a production-based atmosphere, that is focused on profitability, integrity and sustainability.
Midwest Goat Producers Vendor List 2023 May 31 - June 3 Sedalia, Missouri State Fairgrounds: Link available soon
The Meat Goat Society offers the meat goat breeder the opportunity to control their pedigree information, for multiple breeds, in one database.  One yearly membership fee.  Click here for more information to join. 

The database for the Meat Goat Society is accessible to those with a breeder membership.  Yearly national events are available for members and non members.  Click here to find out more.
The Meat Goat Society supports other organizations, clubs, and associations.  Our mission is to share information and support learning opportunities.
The yearly national event, for the Meat Goat Society, is the Goat Expo and Midwest Buck Sale, on the first Saturday in June each year.  In 2023, the Goat Expo dates are May 31 – June 3.  The fun takes place at the Missouri State Fairgrounds under the swine pavilion, Sedalia, Missouri.
A goat registry is a database or organization that keeps track of information about individual goats, such as their pedigree, owner, and any other relevant details.
Record keeping is important and so is parentage verification.
As important as parentage verification is, the standard of the stock is important also. 
Learning to cull properly and improve herds is a collective effort.
The meat goat is a rising commodity around the world.  Pedigrees and good parentage records help improve stock.  The breeder is responsible to keep accurate records. The Meat Goat Society provides an opportunity to keep thorough records.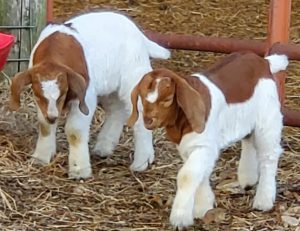 Chroma Goat Kids

The MGS opens membership to those around the world. MGS members can make connections to import/export stock from around the world. Each member's data is private while allowing stock to be searched by members online.
Each member is responsible for their goat's record.  DNA can be part of your herd book record for each animal or only the specific goats the breeder chooses.
A member may utilize the herd book and can choose not to DNA their stock. This is a choice each member has, and will not change.
For more information and links to UC Davis, CLICK HERE
The specific rules for a goat registry will depend on the organization that administers it, but some common rules may include the following:
Goats must be registered with the organization in order to be eligible for inclusion in the registry.  If your goat stock is not eligible, they may be included based upon phenotype qualities.
Only certain breeds of goats may be eligible for registration, depending on the goals of the breeder.
Owners must provide proof of pedigree and other relevant ownership information about their goats in order to register them.
Goats must be registered within a certain time-frame after they are born, usually within a year old.
Owners must keep the registry updated with any changes in the goat's information, such as a change of ownership or address.
The registry does regular fees for maintaining a breeder's herd for registration.
Overall, the rules for a goat registry are designed to ensure that the database remains accurate and up-to-date, and that the goats included in the registry meet the organization's criteria for inclusion.
Total Page Visits: 29309 - Today Page Visits: 5